LONDRES.
Edward Barber y Jay Osgerby fundaron su estudio en el este de Londres en 1996, después de estudiar arquitectura juntos en el Royal College of Art.
Durante más de dos décadas, su trabajo ha desafiado los límites del diseño en este país y en el extranjero, mientras que su compromiso con las conferencias, los talleres y la práctica de estudio apoya el desarrollo de las nuevas generaciones de diseñadores.
El enfoque de Barber and Osgerby se caracteriza por su énfasis en la experimentación y la innovación y una actitud exploratoria hacia la materialidad y el color. De estas áreas de enfoque surgen soluciones que reflejan la estrecha relación de su trabajo con los procesos industriales y las nuevas tecnologías, pero también sus afinidades con las bellas artes, ilustradas más claramente en instalaciones a gran escala como Double Space (2014) – una serie de espejos giratorios suspendidos del techo de la Galería Raphael en el V & A – y Forecast (2016) – un trabajo eólico instalado en Somerset House, como parte de la primera Bienal de Diseño de Londres.
La fuerza de la asociación creativa de Barber y Osgerby ha llevado a colaboraciones con algunas de las compañías más progresistas del mundo y abarca arquitectura, interiores, escultura, diseño de productos y exposiciones, desde la icónica Loop Table (1996) para Isokon y Soft Work (2018) para Vitra, hasta la Antorcha Olímpica de 2012 y una moneda de £ 2 encargada para conmemorar el 150 aniversario del metro de Londres. En 2017, Phaidon publicó una nueva monografía, Barber Osgerby, Projects, que cubre los primeros veinte años de práctica de los diseñadores.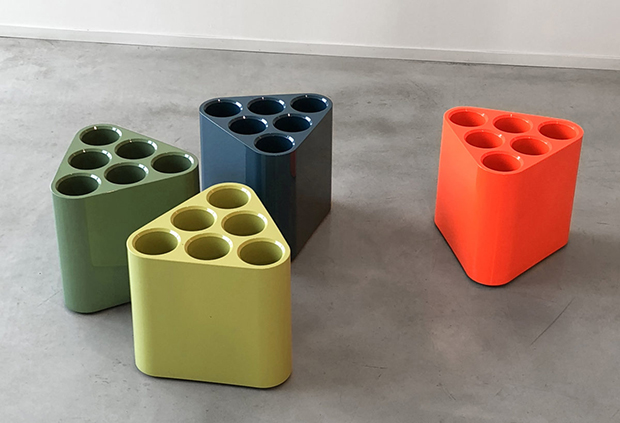 Fotos: Barber Osgerby.