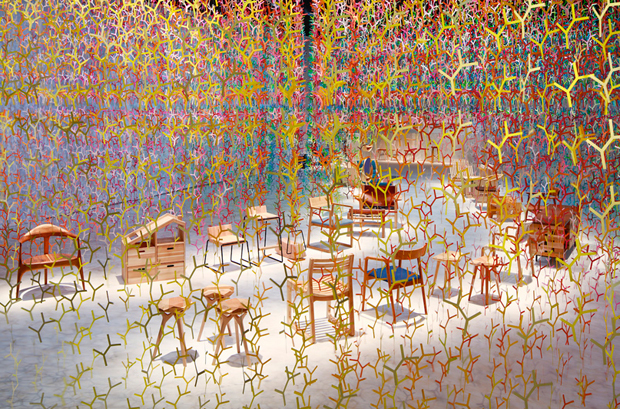 TOKYO.
Paris to Tokyo – the exhibition «WOOD FURNITURE JAPAN AWARD 2016» has returned to Tokyo, after a successful launch in Paris in January. Emmanuelle Moureaux has designed the space for both venues based on a concept of bunshi (meaning «ramification» in Japanese), which means to divide or spread out into branches, extend into subdivisions. The exhibition is held at SPIRAL, a nexus of cultural life in Omotesando, Tokyo.
The collections of colorful small branches diverge and multiply, filled up the volume of an empty hall. Each module is a metaphoric expression of the phenomenon of ramification, which symbolizes the encounters between designers and artisans as their paths intersect and diverge with valuable experiences, leading them to a new path.
The installation consists of 20,000 pieces of small branches (bunshi) in 100 shades of colors, appear randomly placed, but in fact perfectly aligned in three dimensional grids. A portion of volume is removed, creating a tunnel-like path, where selected wood furniture is placed along the edge of the curved path. The color of atmosphere gradually changes as one walk through the tunnel.
At the entrance, installation of characters of 58 Japanese tree species welcome visitors, with a total of 100 letters in 100 shades of colors.
The installation gives an experience of being in a forest, wondering among the world of colorful branches.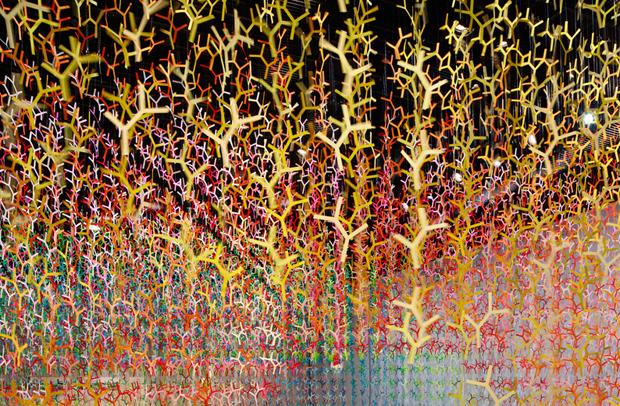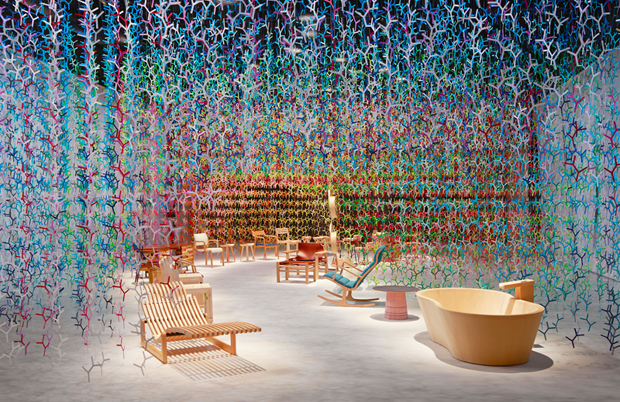 Photos: Emmanuelle Moureaux.