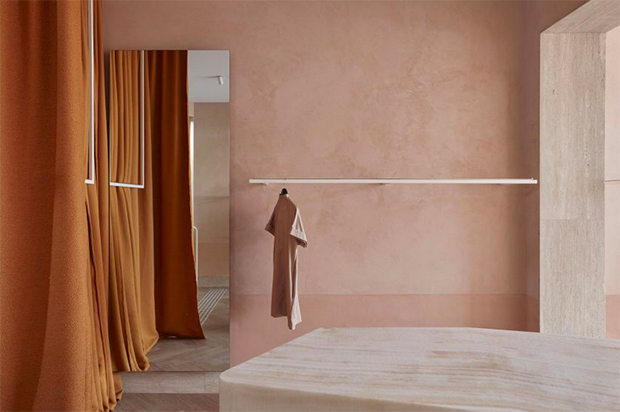 MELBURNE.
Ocupando la planta baja de un local de la calle principal de Armadale, CAMILLA Y MARC Armadale muestra a los clientes un tono residencial y europeo a través de las cualidades arquitectónicas del espacio y la composición material táctil de los interiores.
El espacio comercial rectilíneo se compone de 4 salas secuenciales, divididas por escalones bajos y arquitrabes de travertino. Cada habitación transmite cambios sutiles en la materialidad, al tiempo que se alinea visualmente con la lengua vernácula minorista CAMILLA Y MARC.
La sala delantera ofrece una sensación de llegada con suelos de tablero de ajedrez de travertino de dos tonos, zócalos de travertino y paredes de marmorino de color personalizado en dos tonos. Los rieles colgantes personalizados trazan las paredes, y un mostrador exclusivo revestido de Pearl Wave Onyx ancla el espacio y se extiende hacia la segunda sala.
Las hsalas segunda y tercera están definidas por suelos de roble europeo gris aceitado con un patrón de espiga incluyendo también zócalos de travertino, que se une a la sala delantera. Un par de grandes ventanas rectangulares, recién introducidas en el espacio, permiten que la luz entre en el punto medio del local, lo que garantiza la disponibilidad de luz natural durante todo el día. La segunda sala ofrece un probador envuelto en Kvdarat Raf Simons Helia Boucle en un tono de calabaza, hábilmente escondido en un rincón adyacente a la balaustrada. Los rieles colgantes continúan, siguiendo la curva de la pared de marmorino, con un zócalo de travertino integrado diseñado para servir como una pantalla de accesorios curada.
CAMILLA AND MARC Armadale es la octava tienda diseñada con Akin Atelier después de las tiendas James Street, Bondi, Claremont, Mosman, Melbourne Emporium, Five Ways Paddington y The Strand Arcade.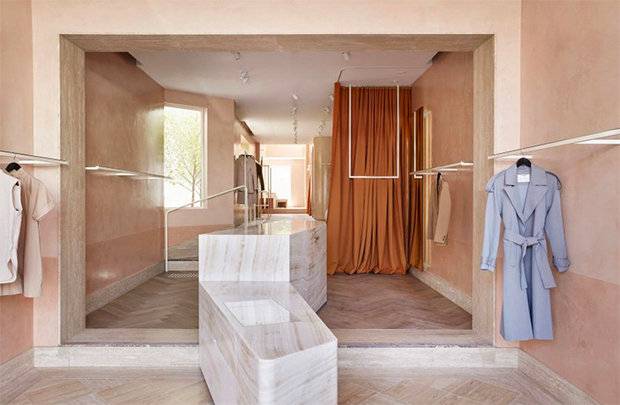 Fotos: Akin Atelier.