LONDON.
Across each window for Hermes high summer Bethan Laura Wood creates a series of hand-painted, still life compositions inspired by the work of Henri Rousseau, which metamorphoses from 2D to 3D. Positioning Hermes products as the seeds and hearts of myriad summer fruits and vegetables, it transforms them into "The Fruits of Labour" while highlighting Hermes' craftsmanship and unique design.
Bethan Laura Wood graduated with an MA in Product Design from the Royal College of Art, where she studied under the tuition of Jurgen Bey and Martino Gamper. Since 2009, Bethan has undertaken residencies with London's Design Museum, W Hotel Mexico city and worked in collaboration with artisans in Venice & Vicenza. Bethan works with the prestigious Nilufar Gallery, who has nurtured her since 2011 showcasing her limited edition lighting and furniture ranges.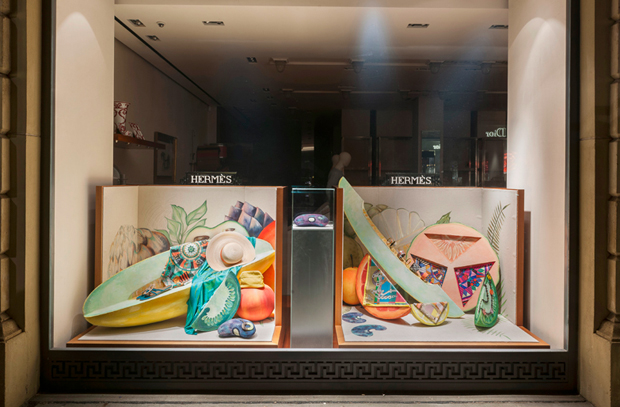 Photos: Angus Mills.