NUEVA YORK.
Los escaparates de Bergdorf Goodman de la Quinta Avenida presentan los retratos transparentes del artista Benjamin Shine.
Las etéreas obras de Shine, que exploran la relación entre lo espiritual y lo superficial,  ya han sido vistas anteriormente por el mundo de la moda. En 2012, junto a Ricardo Tisci, en las camisetas y sudaderas de Givenchy,  y el pasado Enero en París, cuando fue presentada la colección "Artisanal" de Maison Margiela.
Bajo el título de «Seeing through the material», Shine crea cinco escaparates para Bergdorf Goodman donde se muestran rostros de mujeres realizados a partir de unir y coser manualmente piezas de tul de diferentes colores. Un cuidadoso proceso que se abre camino desde el caos y la abstracción, para conseguir una imagen nítida y perfecta al superponer una capa tras otra del tejido transparente.
Benjamin Shine estudió diseño de moda en el Instituto Surrey de Arte y Diseño y en Central St Martins en Londres. En 2003, creó su estudio creativo, donde los materiales, las técnicas y las ideas constructivas continúan alimentando y creciendo su enfoque multidisciplinar.  Ademas de las firmas anteriormente citadas las obras de Shine han estado presentes en el marketing de compañías como Barclays, MTV, Eurostar, Deutsche Bank, Coca-Cola o Google. Hasta la fecha, Benjamin ha ganado el Premio Red Dot Design Award, The Enterprising Young Brit Award y The Courvoisier Future 500 Art & Design Award.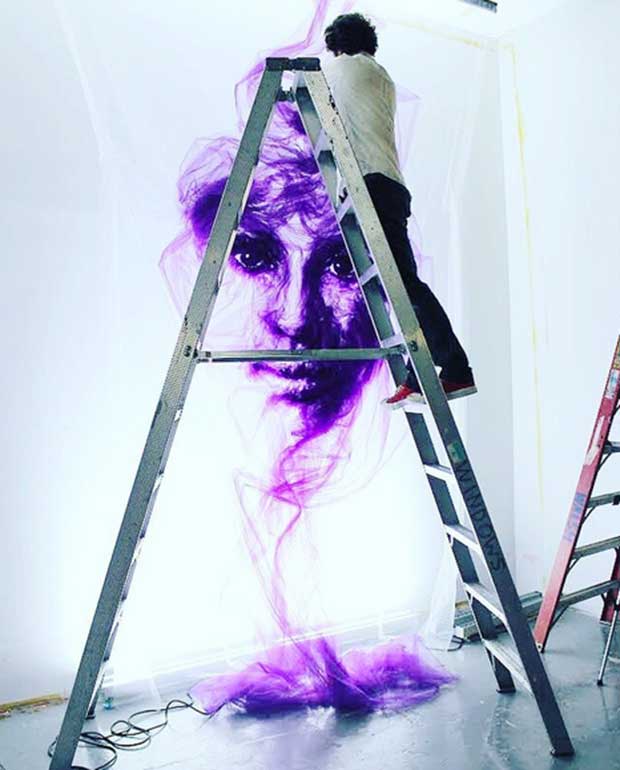 Fotos: Benjamin Shine.