PARÍS.
Viktor&Rolf opens its first ever flagship boutique in France at 370, rue Saint-Honoré in Paris' prestigious first arrondissement.
The two-storey space spanning an impressive 7,000 square-feet showcases the universe of Viktor&Rolf and houses all of the brand's lines – women's ready-to-wear pre and show collections, menswear, handbags, shoes, small leather goods, accessories and eyewear. The brand's haute couture collection will be available upon request and the flagship store will also display the fashion house's entire perfume range. Limited and special edition products from both the apparel and fragrance categories will be exclusively available at the boutique. The interior – spacious yet intimate – is rendered entirely in grey felt, reflecting the design codes that established and continue to define the house: conceptual glamour, provocative couture, rebellious sophistication, and unexpected elegance.
With the Viktor&Rolf wax seal in high-gloss black at its center, the innovative design conceived by Pierre Beucler and Jean-Christophe Poggioli of Architecture & Associés, turns echoes of neo- classicism into contemporary design. The concept of a single monochromatic material marks an unconventional usage of fabric and space giving new perception to surface from which the technique ghost architecture is born.
The space is marked by the inviting perspective of arches that frames the basement staircase leading to the lower level. Elegantly centered around a classical rotunda featuring a felt bouquet, the lower level is composed of three distinct areas: women's ready-to-wear, women's shoes & accessories, and menswear ready-to-wear & shoes. A dedicated VIP area will welcome guests with shopping consultants offering personalized service.
"We have always considered Paris to be our fashion home and are therefore very proud to open a flagship store, a proper place of our own. With the avant-garde design of neo-classically inspired ghost architecture, executed in all grey felt, a new code of the house is introduced, the point of reference for future expansion" – Viktor&Rolf.
The landmark project was made possible through Staff International, a company of OTB group, the exclusive licensee of Viktor&Rolf, engaged in the development, production and distribution of the brand's collections worldwide.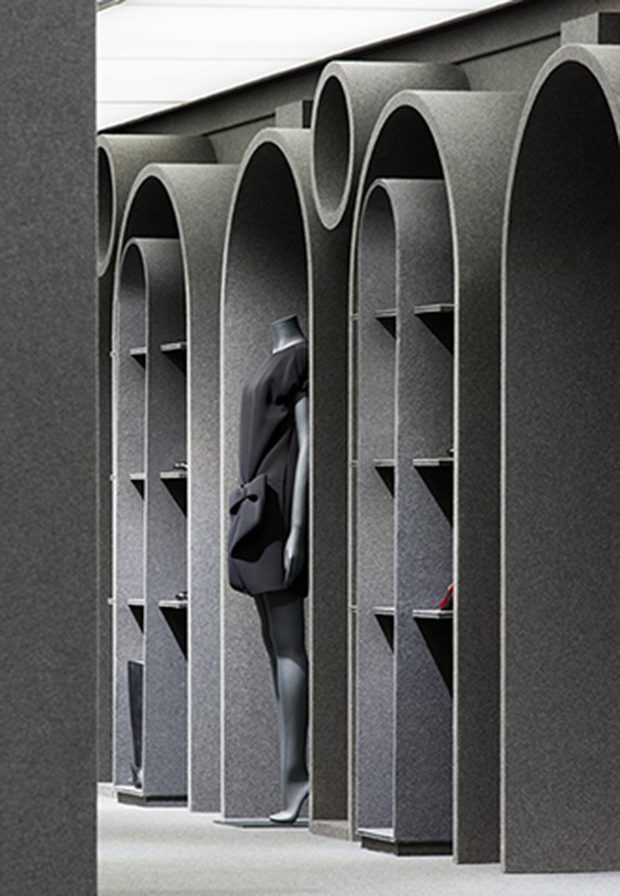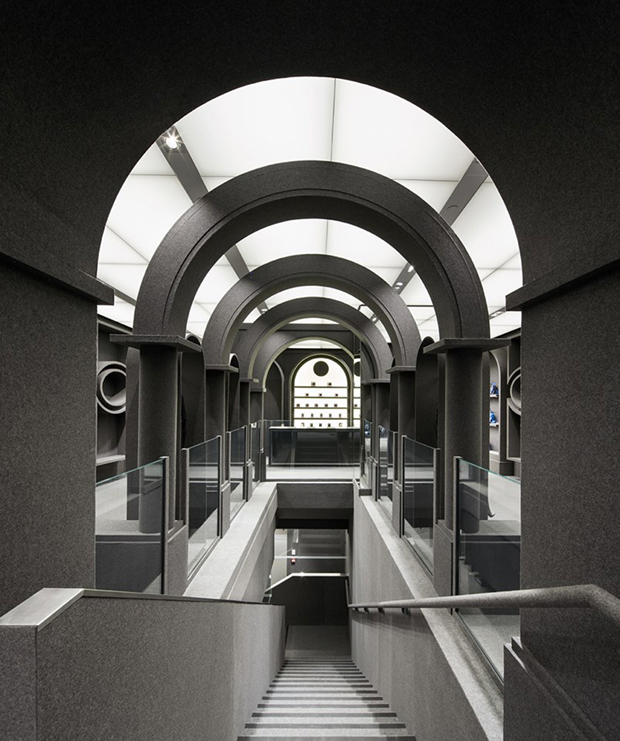 Photos: Viktor&Rolf.