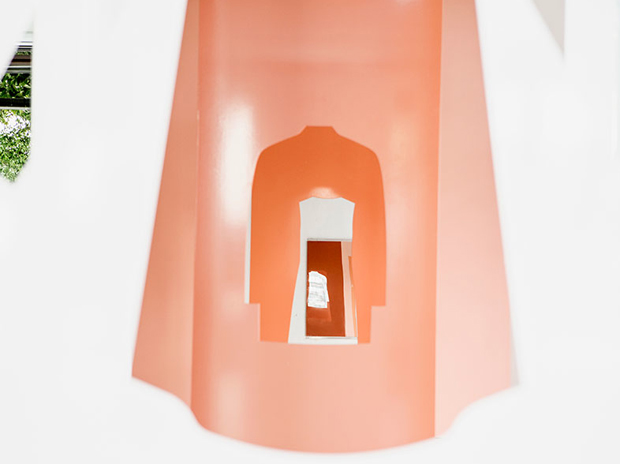 LOS ANGELES.
Snarkitecture's second collaboration with COS creates a pop-up store playing with concepts of reflection and monochrome to showcase a curated selection of the brand's A/W 2015 collection. Centered around a 20' tall two-sided mirrored wall, the installation divides the double height space of Austere into two. Upon entry, visitors are immersed in an all-white environment filled with an offset grid of displays made from bent steel and concrete. Silhouettes of the pieces are cut out of each sheet of metal, highlighting the strong forms of COS's current collection. A single rack in the center of the space showcases a selection of monochromatic white and grey pieces from the collection.
The mirrored wall acts as a threshold between the monochromatic all-white environment, and that of its mirror image on the other side. The second room, while identical in form to the first, is tinted entirely pale pink, referencing and showcasing the warm copper and pink tones of the collection. The uncanny effect of finding oneself in two monochromatic, reflected spaces – identical yet different – creates an unexpected and altered world for visitors to experience and share.
Photos: Noah Kalina.