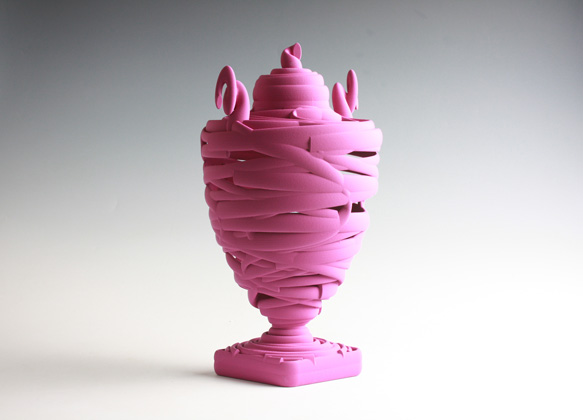 MICHAEL EDEN.
Hace unos meses, ya os presentamos en nuestro artículo, «PIDE LO QUE QUIERAS», que ahora mismo se pueden realizar los objetos más imposibles.
El ceramista y alfarero Michael Eden es, sin lugar a dudas, uno de los artesanos que ha reinterpretado la tradición de la cerámica uniéndola a las nuevas tecnologías actuales.
El artesano inglés ha trabajado de 1986 a 2006 en el diseño y la fabricación de vasijas de cerámica y arcilla semi-líquida, pero fue tras su paso por la prestigiosa «Royal College of Art,»cuando el cambio se produjo en sus piezas. Eden, durante los dos años que estuvo en la escuela, desarrolló un proyecto de investigación que le ha llevado a combinar la tecnología 3D digital y la experiencia tradicional y manual de un modo innovador e interesante.
Tras finalizar su investigación, Eden realizó, «The Wedgwoodn't Project», que fue el proyecto ganador del premio de la RSA (Royal Society for the Encouragement of Arts, Manufactures and Commerce) que destina la cerámica del futuro. «The Wedgwoodn't Project» es una revisitación actual de una sopera símbolo de los obejetos realizados en la primera Revolución Industrial.
Fotos: Web Michael Eden.