SHANGHAI.
When it comes to grabbing the attention of customers, nothing beats a shareable, livable, one-of-a-kind experience. The need for a strong brand-customer connection has never been more prevalent, and what better way to connect than in-person? COORDINATION ASIA joined forces with Nike to create the NIKE+ RUN CLUB on Huaihai, a pair of stealth hubs operating as a pop-up gym outside of department store Lane Crawford in Shanghai's Times Square.
With an ethereal, out-of-this-world design, stepping inside the main hub of the NIKE+ RUN CLUB takes you far away from the busy, chaotic streets of the city. A hexagonal shape is created by pod-like running terminals for treadmills. LED strips of light on the floor and ceiling build up momentum as runners prepare for their work out. Dynamic media surfaces are used throughout the kaleidoscopic interior and exterior, wrapping participants in a temple-like setting devoted to the running experience. As people gear up and begin to run, their live performance stats are displayed both to them and on the exterior of the hub, drawing attention from the street's heavy foot traffic.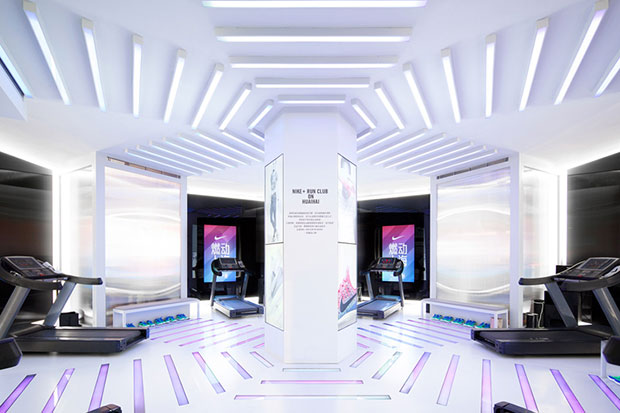 Close by, an information hub in a similar extraterrestrial design hosts everything a participant needs to get started in the NIKE+ RUN CLUB. By either pre-registering online or signing up in person, the hub checks in everyone who wants to take part. LED strips invite passersby to step up and learn more.
More than a community workout regime, the NIKE+ RUN CLUB on Huaihai is a haven for those serious about running – anyone from seasoned pros to beginners. True to Nike brand values, we created a space where talk can become action and people can become athletes.
Photos: Coordintaion Asia.