NEW YORK.
MoMA presents Björk, a retrospective dedicated to the multifaceted work of the singer, composer, and musician. Björk offers an experience of music in many layers, with instruments, a theatrical presentation, an immersive sound experience, a focused audio guide, and related visualizations—from photography and music videos to new media works.
The exhibition draws from more than 20 years of the artist's daring and innovative career, beginning with her eight full-length albums and multiple collaborations with directors, photographers, designers, artists, and other experimental practitioners, and culminating in a new, immersive music and film experience commissioned by MoMA. The exhibition is conceived and organized by Klaus Biesenbach, Chief Curator at Large at MoMA and Director of MoMA PS1, and is made possible by a partnership with Volkswagen of America.
The product of a close collaboration between Mr. Biesenbach and Björk, the exhibition brings together a chronology of sounds, videos, objects, instruments, costumes, and images that express the artist's overarching project: her music. Chronologically, the exhibition begins with the release of Björk's first mature solo album, Debut, in 1993, and proceeds through her career up to her most recent work in 2015, including a new video and music installation commissioned especially for the Museum, Black Lake (which also appears on her new album, Vulnicura).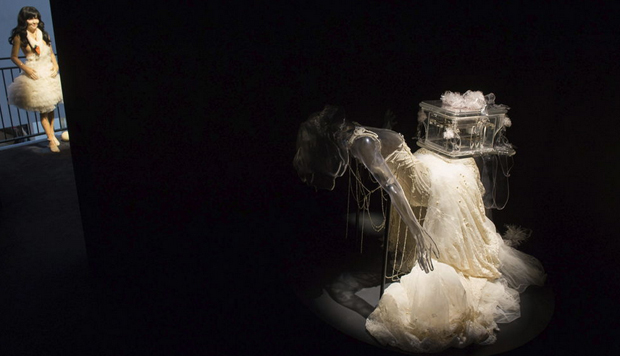 Photos: MoMA.