HONG KONG.
Glowing tress is a serie of 10 site-specific spatial installations that create a journey of the holiday season provoking emotions of anticipation, discovery, and sharing. Each installation piece is inspired from traditional elements of Christmas and spatially interpreted to allow visitors to engage and capture memories while promoting public space, experience, and human interaction.
Viewing the Oval Atrium as a public plaza in the city – the design encourages public gathering and temporary performances. The main sculpture consists of seven out-of-scale trees that hang across Hong Kong IFC's iconic Oval Atrium. Arrival from every floor, the kinetic installation redefine the visitorś relationship to the Atrium as each handcrafted fabric cone moves up and down between the floors over a hand-woven carpeted platform. The underside of each cone reveals a unique universe to be discovered by visitors. The installation offer different types of spatial engagements – inviting the public to wander between, lay underneath, and gather around. The largest 13 meter tall tree is installed with a camera to capture selfie moments while the public can download, print and share their memories.
Glowing tress is a project of Spatial Practice. Spatial practice is formed by Dora Chi & Erik Amir as a collaborative office for architecture, urbanism and design.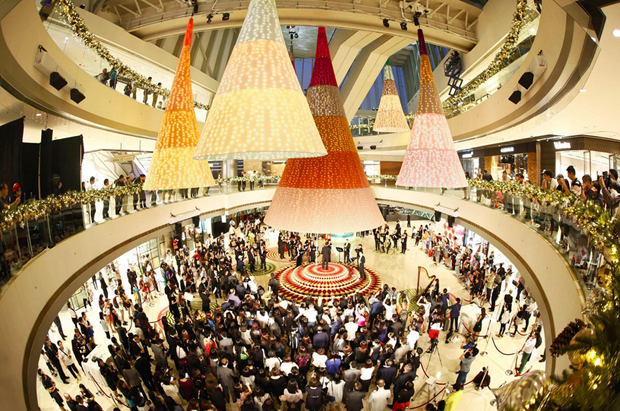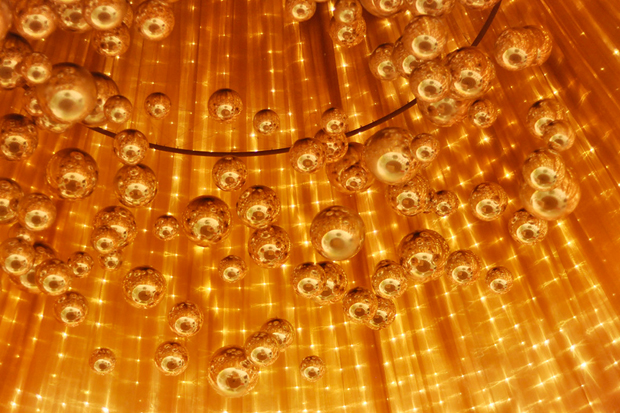 Photos: Spatial Practice.