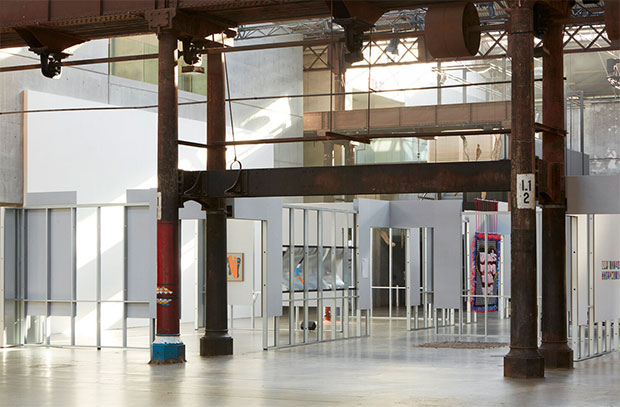 AUSTRALIA.
'No Show' was a site-responsive temporary installation for Sydney's historic Carriageworks at Eveleigh. The design took reuse and repurpose as its main sustainable principle and imaginatively deployed everyday materials sourced from a suburban hardware store into an innovative and spatially complex outcome for the display of art.
The brief sought a series of distinct but connected spaces to house 11 Artist-Run Initiatives within the Public Hall of Carriageworks, for an exhibition period of 3 weeks. The client expressed a desire to design for disassembly and compact storage, such that any proposal be able to be reused for future shows.
Youssofzay + Hart proposed a modular array of steel structures partially lined in acoustic felt. In its proportion each space provided the intimacy of a room, and in its material and structural expression the intervention referenced the industrial fabric of its historic setting.
The felt cladding was strategically cropped to frame key sight-lines between spaces and across the volume of the Carriageworks site. Panels provided an inert backdrop for the vibrant artworks and were able to be manoeuvred to suit the needs unique to exhibited work in each space.
The geometry, alignment and proportion of the rooms were anchored by the existing architectural elements – existing walls, columns and openings. The modular nature of the design and the readily available materials sourced from local trade stores allowed the design to be inherently scalable to budget, demountable and able to be reconfigured and adapted for repeat and changing uses.
Fotos: Studio Youssofzay + Hart.