PARIS.
«For the Joy of Play» es una instalación en París creada por AMO y CONSUL. Es una serie de entornos para jugar, de colores vibrantes, inspirados en los elementos de LEGO y el fútbol. Una estructura translúcida e inflable, de color amarillo, ocupa el patio histórico del Hôtel Particulier en la Rue de Francs-Bourgeois, creando un ambiente inmersivo, donde el público puede crear colectivamente un mural con piezas de LEGO.
Desde aquí, los visitantes se dirigen al laboratorio, un espacio de actividades con un escenario rojo y elementos coloridos. Estos elementos son ajustables, como si fueran piezas de LEGO en el piso, sirviendo a veces como estaciones para juegos grupales y otras como asientos para charlas públicas. Un estrecho túnel verde es el umbral de un espacio en tonos azules, donde las pantallas interactivas que muestran camisetas evocan la experiencia de estar en un vestuario de fútbol.
Una sala magenta llamada Arena, conceptualizada como un entorno cartesiano, es un campo de juego. Los visitantes, que se conocen o no, son llamados a jugar aquí juntos al futbolín. Las geometrías puras y los colores fuertes de la instalación temporal, en contraste con el tejido histórico texturizado del Hôtel Particulier, han dado como resultado un nuevo paisaje para el juego, para descubrir el significado de la diversión.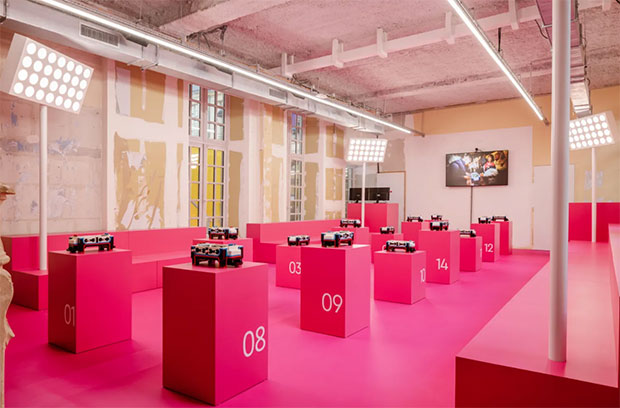 Fotos: Amo Architecture.