CHANGSHA.
«Over the Rainbow» es una llamativa renovación de una azotea que representa un arco iris y que ha sido diseñada y creada para la activación de una terraza sin usar en un edificio comercial en Changsha, capital y ciudad más grande de la provincia de Hunan, en China.
La renovación de la azotea pretende crear un centro comunitario al aire libre de moda, como punto de encuentro y espacio de ocio con vistas privilegiadas sobre el río Xiang, para jóvenes y familias que visitan el edificio comercial en el distrito de Kaifu.
Aprovechando la forma arqueada de la azotea, el proyecto está impulsado por la idea de utilizar franjas de color paralelas programáticas que realzarían esa forma arqueada formando un arco iris de exterior. Cada una de las franjas representadas en un color diferente es una plataforma que alberga funciones y características específicas que fomentan las interacciones sociales a través del ocio y el juego. Esas franjas programáticas inicialmente ejecutadas como gráficos de piso 2D para la circulación, en ciertos momentos se convierten en formas 3D formando mobiliario urbano, estructuras de juego y objetos para el ocio.
«Over the Rainbow» es un proyecto realizado por el equipo de diseño de 100 Architects.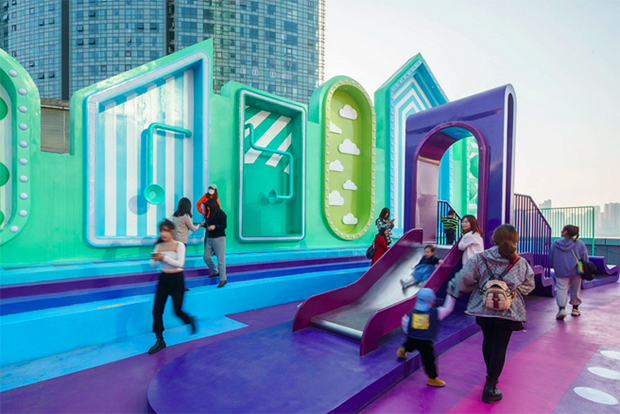 Fotos: © RexZou.