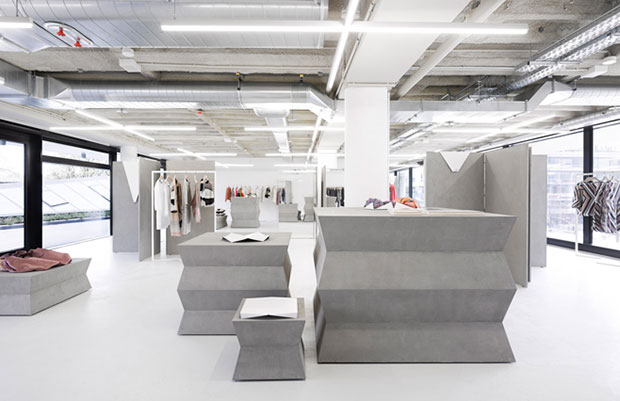 BERLIN.
We show you the new store of Odeeh in Berlin.
The store inhabits the terrace floor of BIKINI BERLIN, a modernist icon of 1950's West-Berlin, offering vistas onto the Memorial church at Breitscheidplatz and the Berlin Zoo. A landscape of movable elements can be arranged in ever-changing configurations allowing for maximum flexibility in creating unexpected spacial formations and curated concepts. The modular system of paravents and podests made of raw cement board is complemented by a series of delicate white metal objects such as clothes racks, hooks and trays, specially designed for the store. The mirrored inner surfaces of the paravents create kaleidoscope-like interiors showing individual products at all facets and allowing customers to eyeball the clothes from multiple angles. The reappearing zig-zag lines and the cross patterns of the lighting refer loosely to stitching methods in tailoring.
The store is a project of Mexican architectural studio Zeller & Moye, founded by Christoph Zeller and Ingrid Moye that operates with an interdisciplinary and global approach, with bases in Mexico City and Berlin.
Photos: Harry Weber.