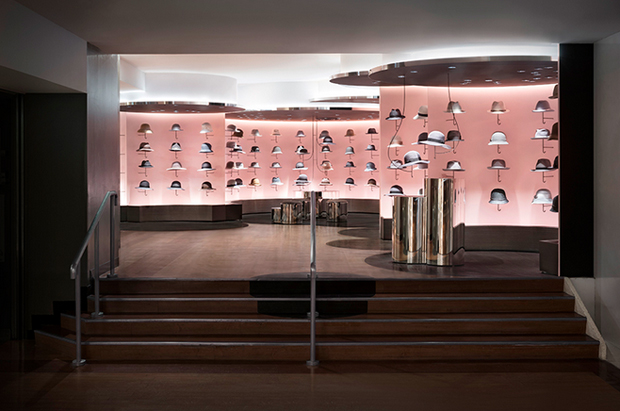 TOKYO.
A design renovation for a women's hat store on the second floor of the Seibu Shibuya department store. The store is located in a slightly secluded area, and several beams are protruding from one section of the ceiling. In order to utilize this environment, cylindrical structures are irregularly positioned so as to create the sensation of being enveloped in huge "clouds". In doing so, the constraints of the uneven surfaces of the space became less noticeable. In fact it allowed the adequate variation of the space with the immediate surroundings, and turned the store into a welcoming three dimensional space.
The ceiling heights are varied according to each cylinder, so as not to draw the attention to the beam. In contrast to the overall store bearing the image of huge "clouds", the individual hats were displayed like small "umbrellas". Previously the goods in a hat store are displayed on shelves, and thus was the case with this store, however this time the hats were newly mounted on arms resembling a handle of an umbrella projecting from the wall. Since hats help avoid the sunlight and protects the head, there is no out of place feeling with the image of an umbrella.
The middle section of the space was turned into a seating area with mirror finish stools and tables, pipes hanging down from the ceiling with hats randomly hooked on like a floating "umbrella". Additionally, in contrast to the surrounding stores that are designed using conservative colours, the walls were finished in pink and brown hues and wood was used to conjure a warm ambience.
The renovation of this hat area in Seibu Shibuya department store is a project of Japanese studio Nendo.