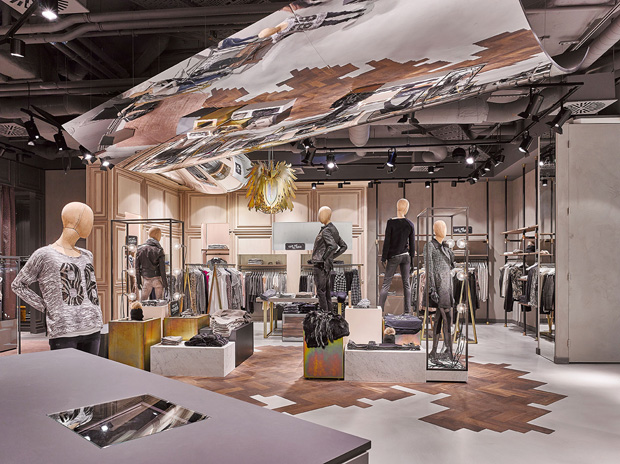 BERLIN.
The label Rich & Royal clothes fashionistas and trendsetters with great passion and devotion – inspired by the fashion capitals of the world. For cosmopolitan women, living life stylishly, and at the same time, self-assuredly. Now they can plunge into a wildly luxuriant world in the Rich & Royal Store. Blocher Blocher Shops has designed a place with stylistic contrasts: Classical elements meet modern elements, open forms meet closed forms, rough surfaces meet smooth ones – rounded off with detail-loving eye catchers. Such as the cream- and anthracite-coloured waffle walls, coloured in rough brush strokes, with recessed display niches in turquoise and antique pink. The check-out desk – a panelled block in front of a dark niche – appearing like a profile wall cut-out. On the other side, concrete surface walls and shelving made of dark pipes connected by gold-coloured nodal joints attend to the wild side of the label.
The central theme is also reflected overhead – and literally, too. The anthracite-coloured open ceiling forms a stage for two sweeping curved mirror elements, enriching the store with unusual perspectives. Another highlight is the central mid-air object: the emblem of the label, in the form of a three-dimensional swoppet figure made of galvanised metal. As playful as impressive: stage spots, uplifting the store to a rear stage and simultaneously adding a touch of Hollywood.
Royal GlamRock is a project of  Blocher Blocher Shops for Rich & Royal.
Photos: Klaus Mellenthin for Blocher Blocher Partners.