MADRID.
Charles Ray (Chicago, 1953) es conocido fundamentalmente por sus enigmáticas esculturas, con las que cuestiona los juicios perceptivos del espectador de manera discordante e inesperada. Partiendo de objetos y referencias cotidianas y cercanas, Ray trabaja con la proporción para rebatir formas y discursos arraigados y estereotipados. En Family Romance (1993), por ejemplo, representa una familia canónica: una pareja de padres heterosexuales con sus dos hijos, un niño y una niña, todos desnudos. Al subvertir la escala de los niños hasta alcanzar la altura de los padres, provoca una percepción alterada de una normalidad idealizada.
La mayor parte de su obra consiste en esculturas e instalaciones, si bien al comienzo de su carrera artística Ray experimentó con piezas más performativas, como Plank piece I & II (1973), en la que su propio cuerpo es un elemento de la escultura.
Ray ha participado en la documenta IX de Kassel (1992) y en varias ediciones de diferentes Bienales: la 50ª y 55ª de Venecia (2003 y 2013), la 9ª de Sídney (1992), la 4ª de Lyon (1997) y cinco del Whitney Museum of American Art de Nueva York (1989, 1993, 1995, 1997 y 2010), museo donde se mostró su obra en 1998. Ha expuesto también en el Art Institute de Chicago en 2015, en el Kunstmuseum de Basilea en 2014, y en el Museum of Contemporary Art de Los Angeles en 1998, entre muchos otros museos o centros de arte. Es profesor emérito de la Universidad de California en Los Ángeles, ciudad en la que actualmente vive y trabaja.
La exposción permanecera abierta hasta el 8 septiembre, 2019 en el Palacio de Cristal del Parque del Retiro de Madrid.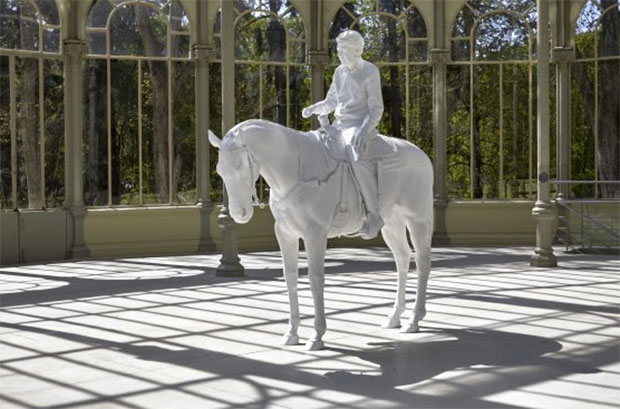 Fotos: Museo Nacional Centro de Arte Reina Sofía. Joaquín Cortés / Román Lores.