MADRID.
With his works Roman Ondák (Žilina, Slovakia, 1966) creates temporary situations in which the presence of objects and persons, as well as modifications made to the exhibition space, may go unnoticed by viewers in their initial approach. His interventions call upon spectators to be an active part of the works and to become both art objects and the protagonists of a performance. Participation by the audience has an impact on the artist's critical consideration of concepts such as authorship, representation and identity. This site-specific project is his first intervention in Spain.
His works have been shown in some of the most prestigious international museums, art centres and events, such as Documenta in Kassel in 2012 and in the Venice Biennale in 2009, where he represented his country. As is the case in most of his works, Ondák has imagined a specific project for Palacio de Cristal. The name given to it is Scene. The title makes reference to the spatial effect created by the artist's addition of an elevated walkway that surrounds the building's usual architecture and is accessed from the inside.
In this work generated specifically for this site, Ondák seeks to make a detour from the spectator's understanding of what is real, giving him or her a different perception. Thanks to this intervention, the Palace can now be seen from the outside in, something that its previous constitution did not allow. Moreover, Ondák uses materials that replicate the pre-existing ones, in an exercise of camouflage that integrates the new construction as if it had always been there. The visitor thus becomes an active agent in the proposal, in the two-faceted dynamic of a person who is looking but can also be looked at, having been transformed into an art object and a protagonist of the performative act.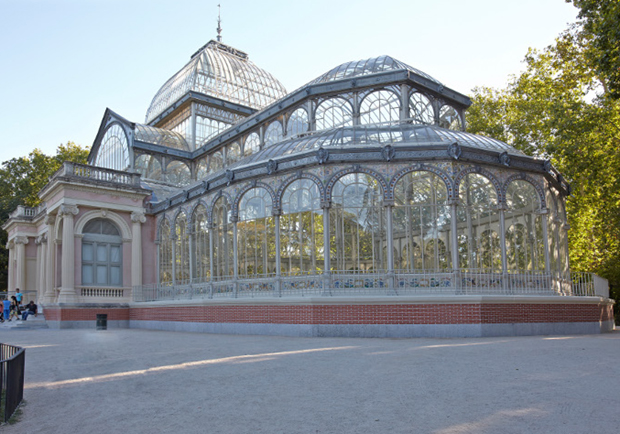 September 19, 2013 – February 23, 2014. Palacio de Cristal, Parque del Retiro. Madrid. Spain.
Fotos: Copyright VishopMag © 2013.