LIVERPOOL.
Dancing Ribbons is a new conception from London-based Yinka Ilori, commissioned at River of Light. Ilori's piece responds to the theme, 'Unexpected Twist', by drawing inspiration from rhythmic gymnastics. His installation aims to capture the energy and poetic relationship between the gymnast and the prop ribbons.
LED ribbons within a large-scale mesh box suspended from the ceiling will mimic the movement of the gymnasts and recreate the organic forms, colour transitions and joy of a performance. It also aims to capture the energy of Liverpool and the audience through this emotive and expressive artwork.
Yinka Ilori collaborated with contemporary conceptual sound artist, Peter Adjaye, to add another dimension to the artwork. The composition is an exclusive and original multi-channel audio soundscape of percussion, that fluidly moves through the installation to create a totally immersive experience. It encourages visitors to interact with the installation in a joyful, organic and spontaneous way, further emphasising the realms of dance, choreography and performance, where the visitor becomes not only part of the performance, but also able to direct the performance with their own body movements.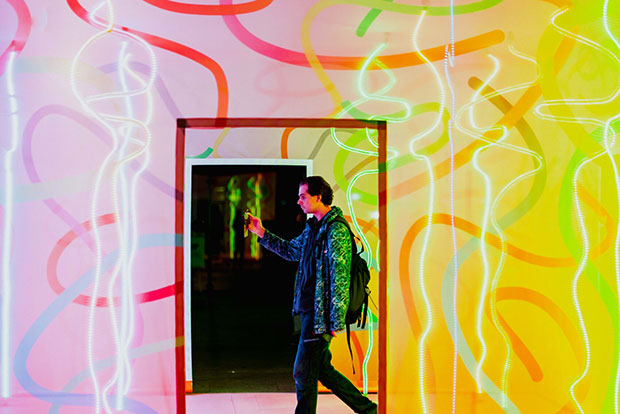 Photos: Yinka Llori.