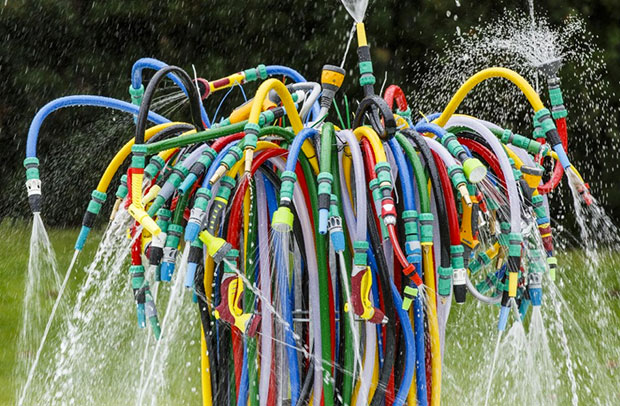 LONDON.
Celebrated French artist Bertrand Lavier, renowned for his inspirational sculptures made from assembled and modified found objects, has been commissioned by the Serpentine to create a fountain within the grounds of the Serpentine Sackler Gallery. Following Rock On Top of Another Rock by Fischli/Weiss the fountain is part of the Serpentine's ongoing outdoor commissions in Kensington Gardens and will be in situ for one year. Bertrand Lavier's Fountain is a playful interpretation of this most traditional of garden features; instead of a classical sculpture of a figure or natural form, the jets of water emanate from an apparently unruly mass of garden hoses. The bright colours and mass-produced forms of the hoses and nozzles appear in stark contrast with both the neoclassical façade of the Serpentine Sackler Gallery and the smooth lines of The Magazine restaurant, designed by Zaha Hadid.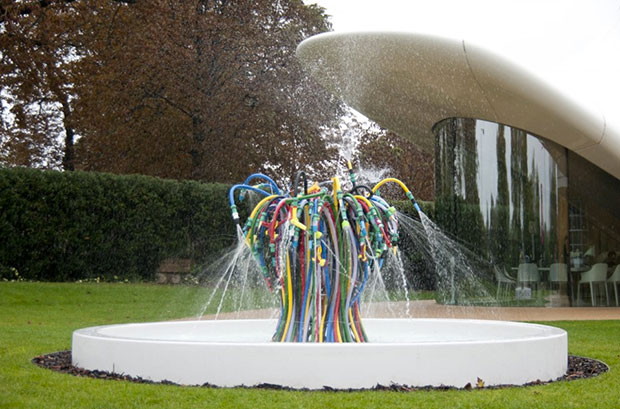 Lavier's work often incorporates unexpected combinations of objects and techniques, questioning the traditional distinctions between Readymades and works of art, and between different art movements. The work of his peers is treated in exactly the same way as a teddy bear, a fridge or a sofa. For example, a painting by Frank Stella is replicated by Lavier in size and scale but is made out of neon tubes, or a sculpture by Alexander Calder is displayed by Lavier upon a radiator that has been mass-produced by a company with the same brand name. Perhaps his best-known intervention is to cover everyday objects with a layer of thick paint in a style that he refers to as 'Van-Gogh-brushwork', thereby transforming the object into a painting of itself. Negotiating the politics of taste, kitsch, fine art and the everyday, Lavier's persistent questioning of the world around us and the role of the artist in it draws attention to the way in which art and its values are perceived and accepted.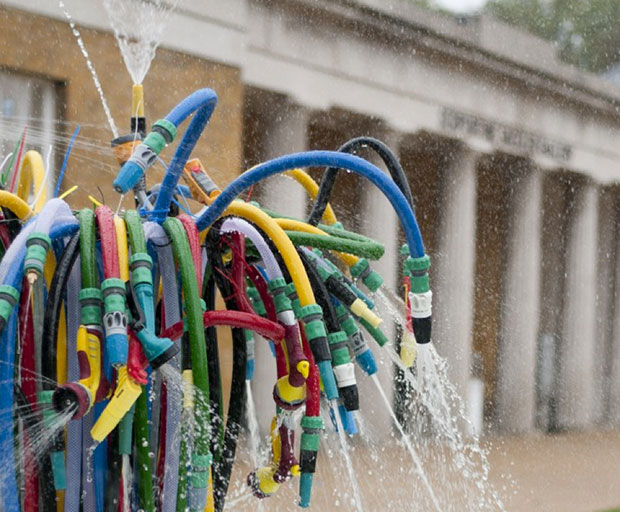 Bertrand Lavier had a major retrospective at the Centre Pompidou, Paris, in 2012. Recent projects include En résonance avec la Biennale d'art Contemporain de Lyon at the Musée d'Art Moderne de St Etienne, France (2011) and Afternoon at Tsum, Moscow and the Hermes Museum in Seoul, Korea (2010). In 2008, his work was shown at the Musée d'Orsay, Paris, in Musée Correspondances. Bertrand Lavier/Edouard Manet.
Photos: Serpentine Sackler Gallery.