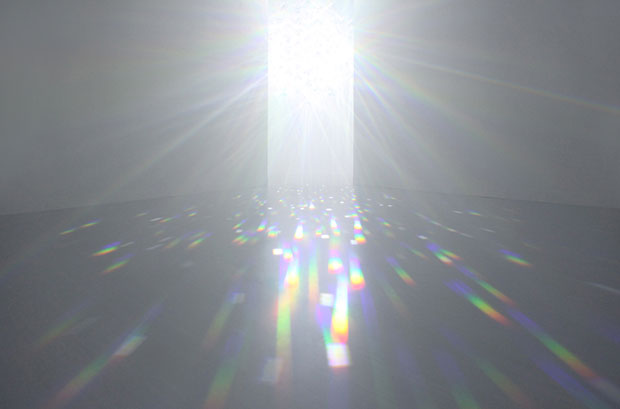 TOKYO.
The Shiseido Gallery shows an exhibition of the new installation by Tokujin Yoshioka. The installation,  Tokujin Yoshioka_ Spectrucm, shows light that fills the room with infinite color, giving visitors an opportunity to experience this mysterious light.
Tokujin Yoshioka is well-renowned both in Japan and around the world as one of the creative people who influence the world through works created from experimental technologies and unhindered ideas in a wide range of fields such as design, art, and architecture. Until now, Yoshioka has focused on the relationship between nature and human beings, specifically pursuing research about the sensation that light brings. With this, he expresses his creations through unique techniques that reflect this research.
The seeds for his latest showcase were sown in 2013, during Tokujin Yoshioka_Crystallize, an exhibition held in Museum of Contemporary Art Tokyo. "Rainbow Church" was a giant architectural installation of some five hundred crystal prisms positioned to refract light in spectacular curves of color across the space it inhabited. Two years earlier, his extraordinary design for the architectural project "KOU-AN Glass Tea House" was presented at Glasstress 2011, the collateral event of the 54th La Biennale di Venezia, and in 2015, Yoshioka's interpretation of the traditional Tea House was installed on the stage of Shogunzuka Mound, Seiryu-den, a precinct of Tendai Sect Shoren-in Temple in Kyoto, which is both a sacred Buddhist site and a designated Important Cultural Property of Japan. The structure captured the world' imagination with an unprecedented design, allowing it to blend almost seamlessly with natural light reflected onto its glass. As well as exploring the vital relationship between time and light, Yoshioka's concept of "reflection" also evoked the role of the ancient tea ceremony in Japanese culture, and echoed the original essence of Japanese identity that resides in the collective subconscious.
The Shiseido Gallery. Friday, January 13, 2007 — Sunday, March 26, 2017.
Photos: Tokujin Yoshioka.