PARÍS.
The design of Maison Ullens was led by OMA partner David Gianotten and project architect Inge Goudsmit. The space features an ivory white onyx wall that runs through the store. The wall divides the shop into public shopping areas and private zones. While the open and orthogonal public areas showcase the brand and its latest designs, the sequence of cocoon-like spaces in the private zones behind the onyx wall create a warm and intimate shopping experience.
David Gianotten commented: «The meticulous spatial articulation, the choice of materials and the injection of art and bespoke furniture create moments of surprises in Maison Ullens, enhancing a luxurious personalized shopping experience.»
Inge Goudsmit: «The shop creates a distinction between the public and private shopping experiences through the use of the onyx wall. Our close communications with Maison Ullens have enabled us to translate the design brief into a space that elaborates the brand's identity.»
The use of warm and opulent materials within the store refers to the innovative application of materials in Maison Ullens' designs. Marble, leather, teak, terrazzo and brass build the tactile qualities of the store, at the same time reminiscent of French history and craftsmanship. In the shop windows, porous wooden curtains by the artist Elisa Strozyk are applied. The store also features spaces for the display of art and furniture design.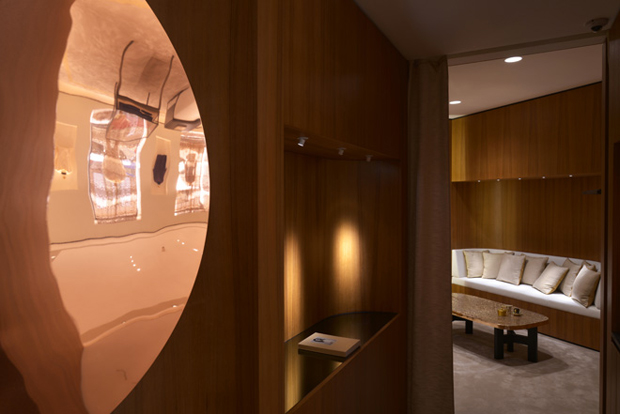 Photos: Kevin Mak / OMA ©.