QATAR.
'Relics' is the first solo exhibition in the Middle East dedicated to the iconic British artist Damien Hirst.
It will be on view from 10th October 2013 until 22nd January 2014 at ALRIWAQ DOHA exhibition space. The exhibition is a retrospective of the past 27 years of Damien Hirst's artistic career. It includes some of his most iconic pieces, such as 'For the Love of God' (2007), a human skull encrusted with diamonds, 'The Immortal', a formaldehyde-preserved shark in a tank, numerous Spot and Spin Paintings, a collection of Medicine Cabinets and previously unseen works. It is the largest body of work to be displayed by a living artist in the Middle East.
Damien Steven Hirst (born 7 June 1965) is an English artist, entrepreneur and art collector. He is the most prominent member of the group known as the Young British Artists (or YBAs), who dominated the art scene in Britain during the 1990s. He is internationally renowned,  and is reportedly Britain's richest living artist, with his wealth valued at £215m in the 2010 Sunday Times Rich List. During the 1990s his career was closely linked with the collector Charles Saatchi, but increasing frictions came to a head in 2003 and the relationship ended.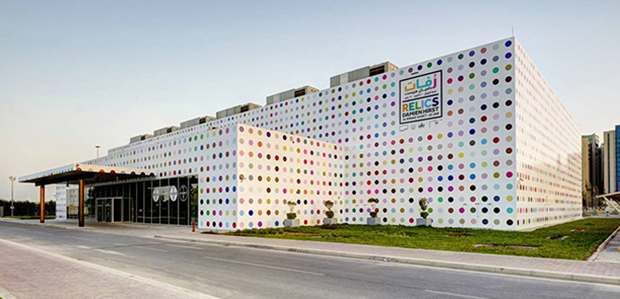 Photos:
Q
atar Museums Authority.