SAVANNAH.
The SCAD Museum of Art presents "Irons for the Ages, Flowers for the Day," a large-scale installation by Beijing-based sculptor Li Hongbo.
Hongbo primarily uses handmade paper to create visually compelling and malleable sculptures that challenge the viewer's perceptions of metamorphosis in sculpture.
Paper and papermaking have throughout history been quintessential to Chinese culture. The oldest known paper fragments in the world date back to the Han Dynasty (206 B.C.–220 A.D.). Paper slowly made its way to the Western world by way of the Silk Road, a trading network that connected the East and West.
Hongbo's work can be seen as part of this continuum, drawing from a rich formal and historic tradition. The artist's fascination with paper and its history started coincidentally when he attended the Central Academy of Fine Arts in Beijing, as paper was a cheap and readily available resource. This ultimately developed into a focused analysis and engagement with the endless possibilities the medium offers as Hongbo progressed through his studies and established his career.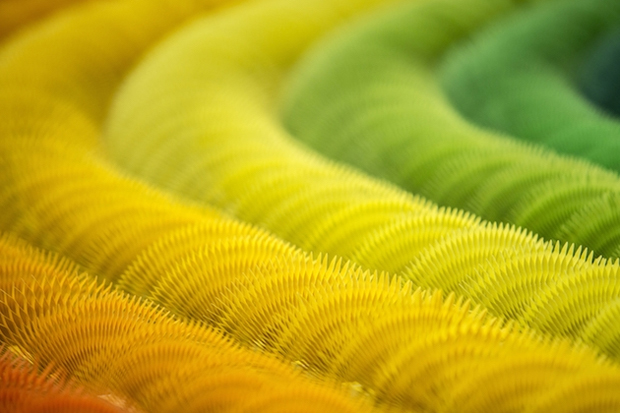 Photos: SCAD Museum of Art.